Sep 11 2016
A beautiful and somber tribute to the fallen here in our city of Colorado Springs.
On this beautiful sunny Sunday morning, September 11, 2016 the 15th anniversary of the September 11th attack on our country, is the day I came to pay my respects here in this beautiful place.

The International Association of Fire Fighters-Fallen Firefighter Memorial
The International Association of Fire Fighters Fallen Firefighter Memorial honors the sacrifice made by the IAFF members-professional firefighters, paramedics, and emergency medical personnel in the United States and Canada- who gave their lives while serving their country and community.
In 1989, the IAFF erected the first of two granite walls on this site, where the names of fallen IAFF members were etched as a silent tribute to their dedication above and beyond the call of duty. In 2015, the memorial was rebuilt to renew these grounds and site and to ensure all those who have fallen in the line of duty since the IAFF organized on February 28. 1918, and those who fall in the line of duty in the future are properly honored.
Each September, the IAFF conducts are ceremony to celebrate and pay tribute to their sacrifice and provide support and comfort to the families of the fallen.
The centerpiece of the Memorial is an original bronze sculpture of a fire fighter descending a ladder while cradling and infant in one arm. Towering 20 feet above the Memorial, "Somewhere, Everyday", epitomizes the courage and bravery displayed daily to those brave men and women so that they are always remembered, never forgotten.
This place is truly a breathtaking and moving jewel in our city, and I recommend everyone to visit.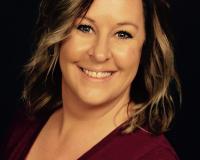 Author:
Sara Bargeron
Phone:
719-464-6715
Dated:
September 11th 2016
Views:
434
About Sara: I was born and raised in Colorado, and I am pretty sure I may be one of the few natives left! I grew...